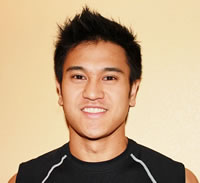 A message from Neal:
"I'm a simple and easy going guy trying to become a better person, athlete and trainer each and everyday.  I love being active and just can't sit still.  If I'm not training clients or hanging out with family and friends, I'm probably climbing, running, playing golf, or cross training.  I am passionate about sharing my fitness knowledge to help others.  What inspires me is witnessing the amazing things the human body is capable of.  We are blessed to have one of, if not the most incredible machines, and I believe it is our duty to maintain and improve it.  Not everyone can be a world class athlete, but we all have the capability of functioning like were supposed to, and display strength in motion."
About Neal Valera & NV Strength In Motion
Neal Valera's individually customized strength and conditioning programs are products of his background as an athlete, with an emphasis on world-class scientifically proven training techniques.
Neal's repertoire as an all around athlete includes; playing Division 1 collegiate golf, rock climbing, martial arts, snowboarding, baseball and numerous other extreme and traditional sports. His training techniques are inspired by his own experiences as an athlete, thousands of hours training clients, and education as a certified personal trainer, corrective exercise and performance enhancement specialist, and kettlebell expert.

Neal makes it a point to never stop learning, his personal mission is to only use the most effective and efficient training methods in corrective exercise and strength and conditioning. His intentions are to aid in your development and motivate you to fulfill your personal fitness goals.
Professional Accreditations
Certified Personal Trainer – National Academy of Sports Medicine (NASM)
Corrective Exercise Specialist – NASM
Performance Enhancement Specialist – NASM
Functional Movement Screen Certified – FMS

Certified Russian Kettlebell Challenge Instructor (RKC)
Certified American Kettlebell Club Coach (AKC)
World Kettlebell Club Fitness Instructor (WKC)